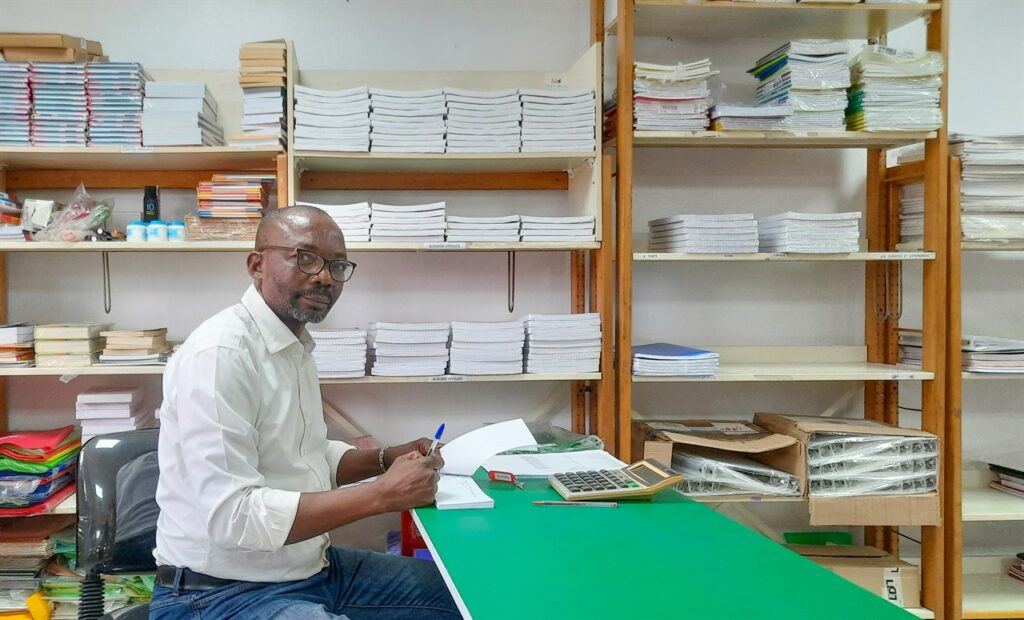 The schoolbooks are loaned by the establishment. The other school supplies are precise in the attached lists according to the year. Parents must buy them all. For parents who would have difficulty finding these French standard supplies, school sells all the products in its kiosk located at the entrance of the administrative block. The kiosk is open everyday from 7 to 8 am and 1 to 2pm.
Below is the list of items in the supply list that parents will be able to purchase at the school kiosk as of September 2022. Any other supply can be found in various bookshops in town.
– Single and double sheets
– Seyes notebooks (92 and 192 pages)
– Document protectors
– Viewing frames 100
– Tracing paper
– Large binder format
LIST OF SCHOOL SUPPLIES BY CLASS: RESUMPTION OF 2023/2024
French State grants are allocated to french national pupils under certain resource requirements. In French educational establishments abroad, families have to pay school fees for their children. Given the costs of schooling, the public authorities have set up a system of aid in the form of grants.
The scholarships are reserved for French children, residing with their family (at least one of the parents) abroad, registered in the world register of French established outside France. The scholarship application file must be submitted within the deadlines set by the diplomatic or consular post. For more information: www.aefe.fr
SCHOOL CAFETERIA 2023 - 2024
Dear LFLP Family
Thank you for your patronage;
Hope you've had a wonderful vacation,
We like to take a moment and thank your trust and your kindness to have us on
delivering happiness to your children;
We, at La Chaumiere; We are trying our best to make sure our quality is maintained
and the prices are well valued.
You can find the LFLP menu as attached, contains 2 sheets as follows
Sheet 1 "Daily Options"
Sheet 2 "Calendar"
1. Daily Options
Contains 6 Categories
* Breakfast Options (could be ordered everyday)
*Lunch Option (Refers to the Calendar)
*Snack Options (Refers to the Calendar)
*Healthy Option (could be ordered everyday)
*Add ons (could be ordered everyday)
*Bevereage (could be ordered everyday)
Note That on "Lunch Option" and "Snack Options" we have 2 sizes of meals Normal and Big
on this behalf you can choose what's more suitable for your child.
2. Calendar
On the Calendar Sheet it'll show you the Lunch and the snacks options are available on a daily basis.
We would like to highlight that you can craft your children's order as you wish to do based on your child preference
for example (no onion, no garlic, sauce aside, …)
(As an example)
The Order will be received as follows:
Child Name: Emeka Siru
Age: 8
Class: CE2B
Order:
Monday 04/09/2023:
ROASTED CHICKEN WITH JOLLOF RICE (Big)
Fresh Carrots
Fresh Cucumber
Pancake
Fresh Pineapple Juice
Tuesday 05/09/2023
Lasagna (Normal)
Chicken Pie
Waffle
Wednesday 06/09/2023
Chicken Quesadilla (Big) (no onion)
Cheese Crepe
Fresh Apple Juice
Thursday 08/09/2023
CHICKEN ESCALOPE WITH COLESLAW (Normal)
Chinese Fried Rice (no egg)
Fruit Salad
Strawberry Yoghurt
Friday 09/09/2023
Mini Pizza (Big)
Club Sandwich
Apple
Chocolate Milk
Based on your order an invoice will be generated and sent to your email, and to your whatsapp if requested.
and the order will be confirmed once the payment is confirmed.
Kindly, We would like to note that all orders are to be received ahead of time,
You can place your order Daily, Weekly, Monthly, Quarterly.
*Special price for Monthly and Quarterly orders
All Order should be sent to the following Whatsapp:
+2348187937339 Mohamad
Please don't hesitate to ask any further questions.
Best Regards

—
Mohamad Chaarani
General manager
La Chaumiere restaurant Ltd
FAQs-TO WHOM TO ADDRESS WHICH QUESTION?
ADMINISTRATIVE AND FINANCIAL MATTERS
QUESTIONS RELATING TO SCHOOL LIFE
Who should I report the absence of a student to?
Primary school: secretariat primaire@lflp-lagos.com, College / high school: vs@lflp-lagos.com