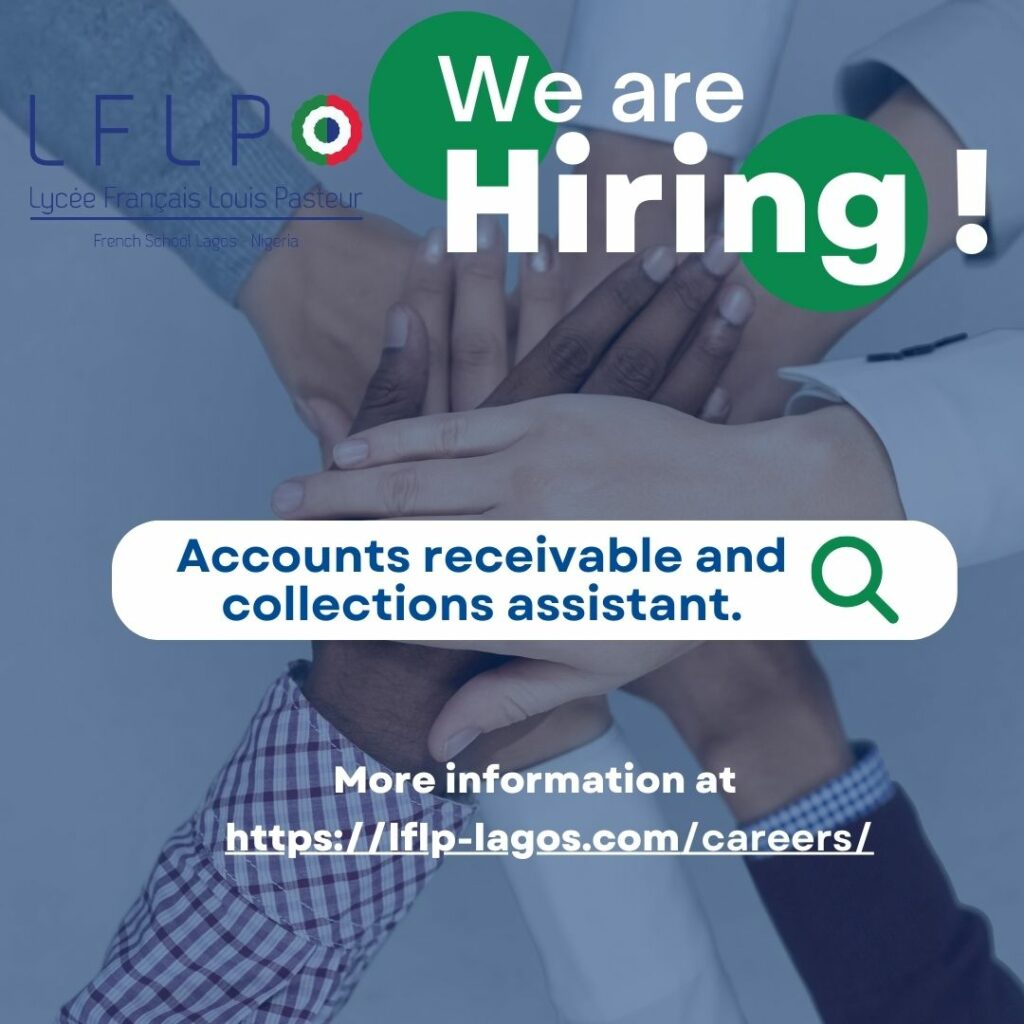 Account Recievables and Collection Assistant
The French International School "Louis Pasteur" of Lagos (LFLP) is hereby looking for a competent Accounts receivable and collections assistant for immediate recruitment.
Job Description
Job Title: Accounts receivable andcollections assistant
Job Family: administration/Finance
Location: 16 Younis Bashorun, VI. Lagos
Contract: Permanent
Reports To: deputy DAF/DAF
Staff Responsibilities (direct line management of): 0
Overall Purpose of the Role
The overall purpose of the role is to: The accounting assistant will be responsible for editing and tracking customer invoices. Manage collection, reporting regularly to the CFO and his deputy on sensitive files. He will be in charge of entering accounting updates on the SAGE and eduka erp.
Requirements
Technical Skills and Prior Experience
Must be PC proficient and able to thrive in a fast -pace setting.
Must have strong experience with Microsoft Excel, Access and Word.
Ten key by touch required.
Strong verbal and written communication skills.
Strong interpersonal, supervisory and customer service skills required.
Ability to multi-task, work under pressure and meet deadlines required.
Ability to Listen, Communicate (written and verbal), excellent grammar, spelling, proof reading skills and follow-up effectively with all staffing levels and clients/customers.
Ability to perform at high levels in a fast paced ever-changing work environment.
The marginal functions of this position have not been included. This job description in no way implies that these are the only duties to be performed. An employee will be required to follow any other job-related duties required by the manager.
Responsibilities and Duties
Essential Duties and Responsibilities:
Utilize computerized accounting Software Programs.
Generate and send out invoices.
Advise customers of necessary actions and strategies for debt repayment.
Locate and notify customers of delinquent accounts by telephone and email.
Provide input to DAF and deputy DAF Regarding collection issues, process customer refunds, process and review account adjustments.
Resolve client discrepancies and short payments.
Responsible for monitoring and maintaining assigned accounts – customer calls, accounts adjustments, small balance write off, customers reconciliations and processing credit memos.
Enlist the efforts of sales and management when necessary to accelerate the collection process.
Receive Payments and post amounts paid to customer accounts
Receive and Verify Invoices and requisitions for Services
Verify Transactions comply with financial policies and procedures.
Maintain Listing of Accounts Receivable and Payable.
Prepare batches of invoices for data entry.
Assist the Controller in the daily banking requirements.
Assist in development and implementation of new procedures and features to enhance the workflow of the department.
Method of Application
Application letter and CV + copy of credentials to be sent by mail only to:
lyceefrancais@lflp-lagos.com
Contact: School Administration – 234-1-2700545 ou 46
Application Closing Date
September 13th, 2023